Russell Uhl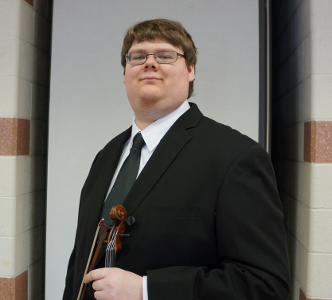 Russell Uhl, born in rural Pennsylvania, was raised as an only child in a very musically-inclined home. At the age of 18 months, Russell was introduced into the Kindermusik program, where he learned the very basics of music. At the age of 4, he began his training on the violin, which he still plays today. During his middle and high school years, Russell played in his local church choir, the Hershey Symphony Festival Strings, and various county, district, regional, and state orchestras. During middle school, Russell took up the flute, which was later replaced by the piccolo in the high school marching band. Other instruments were added to his arsenal as needed in marching, concert, and jazz bands, until his instrumental prowess peaked with the violin, viola, flute, piccolo, tenor and bari saxophones, and the mellophone.
Upon graduation of high school, Russell began his college career at the Rochester Institute of Technology. It is here that he met Tom Kopchak, through the Newman Catholic Choir. It quickly became apparent that Russell's improvisational style, honed through years of official and personal training, was very compatible with the style of Tom's piano technique. After a year and a half of performing musical acts off the cuff together, they decided to create their first album, Random Acts of Music . It is here, then, that we leave Russell, as he continues to carry on the music.
Tom Kopchak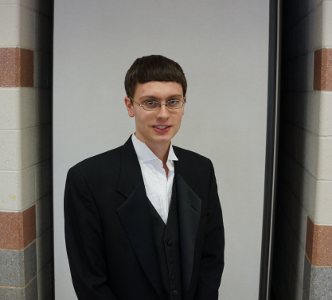 Tom Kopchak began his musical journey studying the piano at the age of 8. He expanded on these lessons to become a student musician at St. Albert the Great Church in North Royalton, Ohio and then joined the liturgical musicians' ensemble at Cleveland's St. Ignatius High School. By his senior year, Tom had become a student director, and set his sights on greater challenges. Two years and a new instrument later, Tom was named the Director of Liturgical Music at the Newman Parish of the Rochester Institute of Technology, where Russell was an incoming freshman. To date, Tom's most recent experiences and work have come as a liturgical musician.
Tom is a self-taught organist, director, and composer. In addition to his improvisations (both solo and as a member of the Acts of Music team), Tom has composed and is in the process of composing several liturgical hymns, including a complete mass setting for the new translation of the Roman Missal. He has also written the hymn "Together We Are One", a song inspired by the challenges faced by Catholic youth in an ever-growing secular world.